Situation Analysis & Competitive Advantage
Water - The Global Context

While 3% of the earth's water is fresh, 2.5% of the earth's freshwater is unavailable: locked up in glaciers, polar ice caps, atmosphere and soil. Some of it is highly polluted or lies too far under the earth's surface for extraction at an affordable cost.
The world's growing global population is putting pressure on the world's freshwater supply with an estimated 2.2 billion people lacking access to safe drinking water. This growing concern has spurred massive investment in the sector as both governments and the private sector work towards avoiding a global water crisis.
Water - The Kenyan Context

In Kenya, access to a safe and sustainable supply of water is a key indicator of well-being, social stability, and economic growth of the population. Given that only 59% of the population has access to safe drinking water, the National Government is investing resources towards ensuring improved access to water and sanitation for all by 2030.
In 2014, the national government launched the National Water Master Plan 2030 - that was developed in collaboration with the Japanese International Cooperation Agency (JICA) - to formulate a sustainable water resources development and management Master Plan for the country's catchment areas as well as assess and evaluate availability, reliability, quality, and vulnerability of the country's water resources up to the year 2050 taking into consideration climate change.
In the fiscal year 2019/2020, the National Government increased its investment in development expenditure on water supplies and related services by 47.22% allocating a total of USD 458.31 million. Rural water supplies received an allocation of USD 16.81 million. In 2019, also saw the total volume of water abstracted under permit increase by 2.9 percent to 32.3 billion cubic meters up from 31.4 billion cubic meters in 2018 with surface water abstraction accounting for 99.3 percent of the total volume of water abstracted in the review period.
Table:
Water Abstracted (Million Cubic Meters)
| | | | | | |
| --- | --- | --- | --- | --- | --- |
| | 2015 | 2016 | 2017 | 2018 | 2019 |
| Surface Water | 30,513.4 | 30,674.4 | 30,743.8 | 31,195.3 | 32,075.3 |
| Ground Water | 77.6 | 102.9 | 140.6 | 175.6 | 211.7 |
| Total | 30,591.0 | 30,777.3 | 30,884.5 | 31,370.9 | 32,286.9 |
Source: Water Resources Management Authority
Water in Turkana County

In Turkana, the County Government envisions a water-secure County with effective governance structures for improved water service delivery and sustainable livelihoods. In the Turkana County Government's Nine-Point Development Agenda, the Administration set the goal of ensuring access to safe and reliable water as a universal right. In order to achieve water security, the County Government has enacted the necessary policies and continues to mobilize the necessary resources geared towards the accelerated implementation of strategic interventions in the sector.
The Turkana County Water and Sewerage ACT 2019, The Revised Turkana County Water Sewerage Policy 2021, The Revised Turkana County Water and Sewerage Rules and Regulations 2021, and the Revised Turkana County Water, Sanitation Services Sector Strategic Plan 2021-2025 serve as the policy framework for the water sector and were derived from the National Water Policy (2012) and the National Water Master Plan 2030 . It details the strategic goals and underlying principles guiding a set of strategic interventions aimed at achieving water security with due consideration given to Turkana's climate and pastoral way of life .
The main sources of water in the County include boreholes, piped water, and river water. Other sources include springs, rock catchments, and wells. The 2013 discovery of two aquifers at the Turkana Basin and Lotikipi Basin also complements these existing water sources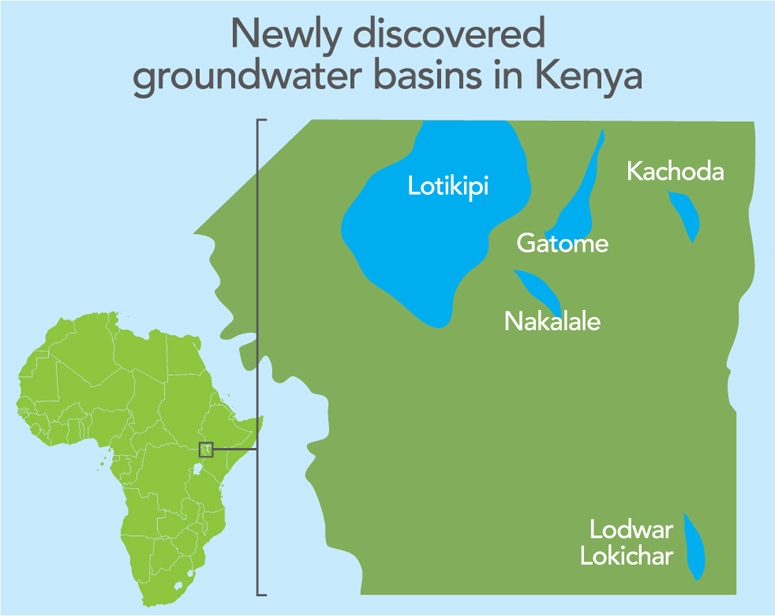 A recent water quality index map, developed by climate change researchers, revealed that sections of the Napuu Basin aquifer contains freshwater and is fit for human consumption.

The Lotikipi aquifer is estimated to have enough water (200 billion cubic meters) to satisfy the needs of Kenya's population for the next 70 years. The County is currently in talks with investors to set up a desalination plant to make the water fit for human consumption.
Strategic Interventions
The Turkana County Government, through strategic interventions, continues to support and catalyze both domestic and foreign investors in the County's Water sector. Some of these interventions include:
Prioritization of and resource mobilization for water services development under the Governor's Nine-Point Development Agenda.
Direct investment of USD 222.48 million in water and sanitation infrastructure to enhance water security. This includes the drilling of wells and boreholes

Direct investment of USD 6.71 million in sustainable water management and water catchment protection by enhancing community participation in water resource management




Partnership with Davis and Shirtliff to establish a desalination plant in Lomelo, Turkana East, with the County Government investing in two additional desalination plants located in Napetao and Nadwat




Undertaking studies to assess the feasibility of constructing water dams in Lomelo, Kalemng'orok, Lokwanamol, Kalokol (Kadokorian). The design for the dam in Taraj has been completed through a partnership with the Red Cross and UNHCR




Providing incentives for technology institutions to explore Innovative technologies for the sustainable harvesting of flood water




Collaborating with the National Government in the construction of a dam in Naokuotoleng




Development of the 2020 Master Plan for Water Supply and Sanitation Services for Kakuma Town, Kakuma Camp, and Kalobeyei Settlement to serve as the guiding policy framework to enhance access to water and sanitation through improved infrastructure and related services for the 200,000 refugees and residents living in North-West Turkana


Areas of Opportunity
The Turkana County Government has established partnerships with the Kenya Investment Authority and the Kenya National Chamber of Commerce and Industry. Through these partnerships, the County Government, in consultation with stakeholders, is constantly profiling and documenting domestic as well as foreign direct investment opportunities in the Water sector

In line with the Kenya Vision 2030 and the County Government's Nine-Point Development Agenda, the Turkana County Government invites interested investors and mid-sized startup enterprises to participate and develop opportunities in:
Build-Operate-Transfer (BOT) partnership model to help improve water and sanitation infrastructure in the county including the drilling of boreholes and the harnessing of flood water for irrigation and distribution across the County's urban areas

Desalination plants to improve on the quality of the water discovered in the aquifers

The construction of waste (solid and liquid) management and recycling facilities

Public-Private Partnerships (PPP) to facilitate the construction of water dams

Construction of efficient drainage infrastructure with harvesting and filtration galleries in the County's urban areas of Lodwar, Kakuma, Lokichoggio, Lokitaung, and Lokichar
For more information regarding the advisory services and incentives available in these investment opportunities, please contact the Turkana County Investment Promotion Unit